ADAPTIVE HONEYCOMB PANELS
3D printing + laminates
Honeycomb sandwich structures have been widely used in the manufacture of the space structures due to their lightweight, high specific bending stiffness and strength under distributed loads in addition to their good energy-absorbing capacity. Honeycombs structures assure high bending stiffness with relatively low mass. The TRL of honeycomb structuring is defined as 9. It is one of the most common flight proven technologies used in space industry from the beginning of building the spacecraft missions and mechanisms with significant heritage.
The industrial transfer of honeycomb panels initially developed by space sector has performed several times: mainly by modifying materials of each component of honeycombs (as presented below), which (from technical reasons) can not work in space environment, but on earth brings great advantages.

Activity describes farther continuity of that honeycomb development process, being a consequence of fast growing 3D printing technologies, which enables going deeper into material aspect of one of the component of honeycomb- core material. Replacing space-standard aluminium cores by 3D printed elements brings significant advantages, later also implemented back to space environment.
Sandwich honeycomb composite panels are lightweight and strong, and, therefore, provide a reasonable alternative to the aluminium ring frame/stringer architecture currently used for most aircraft airframes. The drawback to honeycomb panels is problematic fixation methods, which mainly implements adhesion methods, riveting or installing inserts. Described research activity proposes replacing aluminium honeycomb plate (internal component of honeycomb panel) with FDM 3D printed lattice material, which will assure regional stiffness control and will enable reliable fixation methods bringing significant mechanical advantages for aviation sector.

One of the biggest drawback of honeycomb invention is a low possibility of mounting external parts- fixation points which will enable mounting on a simply honeycomb panels- mainly riveting, inserting or adhesion methods are used.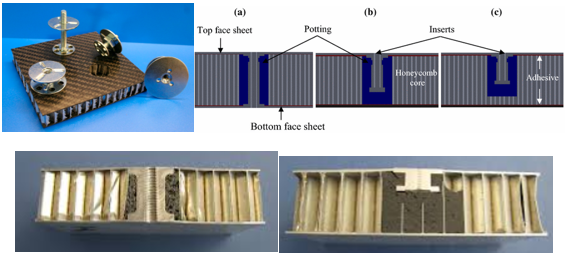 Our technology offers replacing aluminium honeycomb core with FDM 3D printed lattice material, which will regionally increase stiffness in the area of fixations, assuring better stress distribution and more reliable and easy fixation areas. Interfacing areas can be built with higher value of infill density indicated during 3D printing step. As a consequence, in the area of fixations no additional adhesion material is needed.
In addition to that, by regionally modifying the infill parameter (so the material density) it is possible to achieve mass reduction effect (keeping for example low infill parameter in the regions which are not high-load-carrying).

Another technical possibility, which cannot be covered by traditional honeycomb core, is building plate shapes with high curvature. As shown on the picture below- significant draping problems appear in the areas of sharp edges. 3D printed core enables building sophisticated plate shapes with beneficial stiffness behaviour.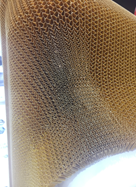 FDM (fused deposition modelling) was selected as 3D printing technology because of economic reasons. FDM is the easiest and the cheapest technology of rapid prototyping, which currently gets to the stage of mass production- friendly method with high future perspective.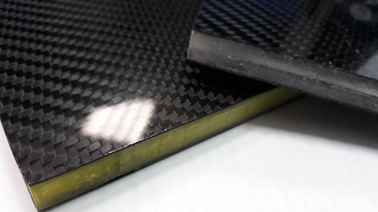 Farther developing steps are related with carbon fiber tubing structures. Below there is presented a composite tubing part with 3D printed core and carbon fiber braided. That solution will finally assure the most reliable fixation of hinge-fixation areas with composite tubing.